Sara Tendulkar shuts down troll who accused her of 'wasting father's money'
There is absolutely no hiding to the fact that Sara Tendulkar has become a famous personality on the internet. Sara Tendulkar was born to parents Sachin Tendulkar and Anjali Tendulkar. Sachin Tendulkar is the legendary batting maestro whereas Anjali is an Indian paediatrician, philanthropist.
The daughter of cricket legend and former Team India skipper has a huge fan-following on social media, especially Instagram. She occasionally posts pictures but regularly likes, comments and updates stories on Instagram. So far, she has uploaded 78 posts and she is following 427 people on this platform.
Sara Tendulkar has 1.2 million followers. Whenever she hangs out with her family, friends or cousins, she doesn't shy away from posting pictures on Instagram. Her pictures have gone viral on the internet. Recently, she was targeted by one of her followers and Sara decided to school him online.
A follower accuses Sara Tendulkar of wasting her father's money
There is no denying that Sachin Tendulkar's family is one of the richest families in India. But they never showed off their lavish lifestyle. Sachin Tendulkar and his wife Anjali Tendulkar are philanthropists as well. They have done their bit by contributing something for the charity and society.
Meanwhile, a troll accused Sara Tendulkar of wasting her father's money. On Friday, Sara was targeted by a troll who came up with a distasteful remark about Tendulkar's daughter. It all started when Sachin's daughter shared her plans of 'beating the heat' by relishing coffee inside her car on Instagram.
Sara Tendulkar shared a candid picture of her having a coffee with her fans and followers. Usually, Sara receives a tremendous response on social media. But this time, she had to tackle the troll who accused Sara Tendulkar of 'wasting father's money'.
Taking note of the irritating post, Sara Tendulkar decided to share the screenshot of the internet bully on her Instagram handle. She also went on to school the bully by taking a swipe at the Instagram user. Users praised Sara Tendulkar for her bold response. Since trolls and abuses have become a common thing on the internet, it is good to see celebrities and renowned personalities are trying to silence the internet bullies in the form of epic replies.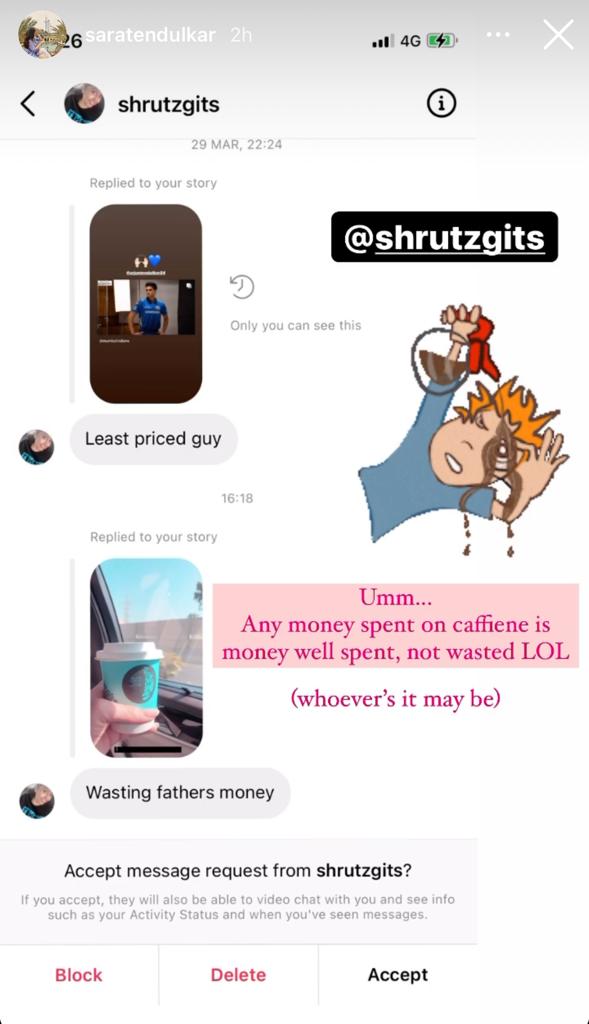 From around the web